A project focused on the humanities
The Royaumont Foundation, France's first cultural foundation with public interest status, has been supporting intellectuals and artists for 55 years.
Henry and Isabel Goüin set up the Fondation Royaumont (Goüin-Lang) pour le progrès des Sciences de l'Homme in 1964 and donated their abbey to the new Foundation. Their goal was to continue and to consolidate the artistic and intellectual activities carried out within the abbey, which had over time become a major gathering place for an entire generation of French and international intellectuals working primarily in the fields of philosophy, literature, sociology and music.

In 1972, the Foundation encouraged Europe's first attempt at cross-disciplinary cooperation between biology and anthropology, establishing the Centre Royaumont pour une Science de l'Homme chaired by Jacques Monod. The later part of the decade, however, proved difficult. Henry Goüin passed away on February 25, 1977.

The following year, led by Francis Maréchal, the cultural project was re-launched to offer research, training and creative programs in music, poetry, the visual arts and the humanities (ethnology, musicology, etc.), and in 1995 it was extended to cover choreography and dance.

More recently, a research program focused on the study of man within his environment was undertaken with the help of landscape architects, gardeners, scientists, artists and humanities researchers culminating in a series of biennal meetings, L'Homme & la Nature (man and nature).
---
The International Center for Music and Dance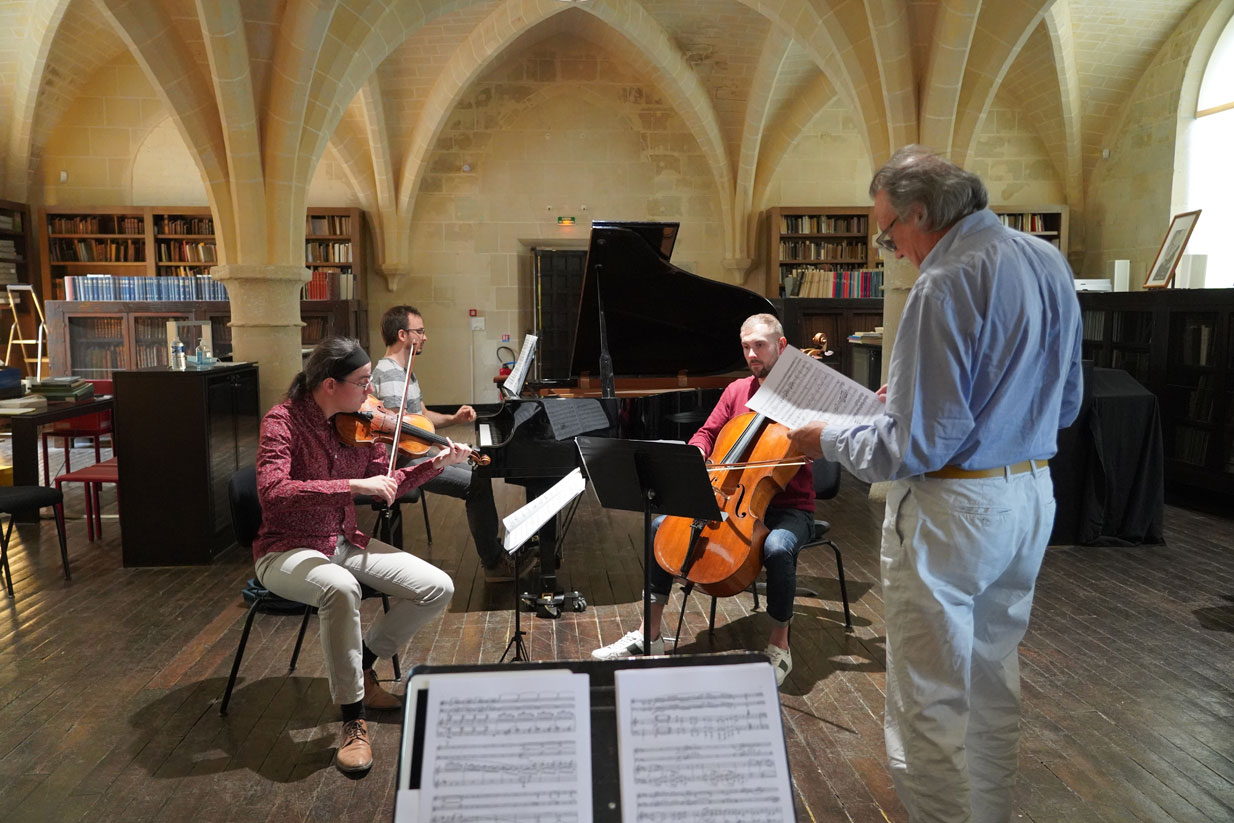 Music and dance, brought together 25 years ago, today form the Foundation's two areas of activity.
Music is structured in two departments: Voice and Repertoire, and Musical Creation. Dance is covered by the Choreographic Creation department. Together with the Educator Program and the Libraries and Resources departments, which strengthen the Foundation project's focus on the humanities, the International Center for Music and Dance is thus made up of three arts programs and two general departments.

The Foundation gives priority to research, dialogue and the transmission of knowledge between artistic languages and practices.

Building on its three libraries, it is a leading proponent of repertoire interpretation elucidated by the study of historic sources and data, as well as a leading supporter of creative composition and choreography.

Music and dance enrich the creative process by rubbing shoulders with other disciplines.
The visual arts, poetry, literature and of course theater contribute to the artists'projects and broaden understanding of the heritage.
---
A heritage site open to all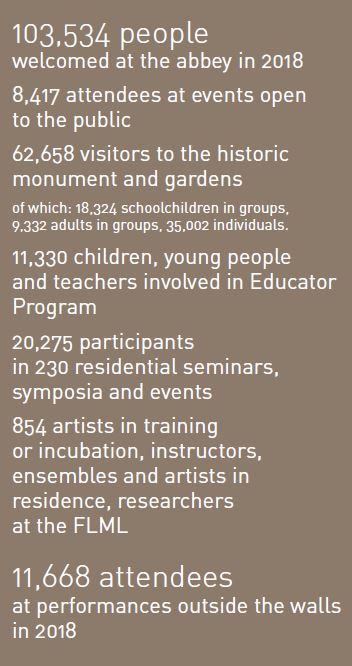 The art of hospitality

Royaumont Abbey welcomes artists, companies, visitors, concertgoers and school groups for a few hours, a day or a stay, throughout the year.
The abbey is open 365 days a year and receives nearly 65,000 visitors annually. Visitors can learn about its rich and surprising history in guided tours, exploration games and a digital tour introduced in 2018 that provides multimedia and interactive content in four languages to guide visitors and explain the history, architecture and archaeology of the monument. There are customized versions of the digital tour for adults, children and people with vision impairment.
To provide a welcome worthy of the site, the Foundation has installed residential facilities that respect the spirit of the place. To enable as many people as possible to enjoy the abbey, the Foundation recently made board and lodging previously reserved for artists and companies available to the public on weekends.
A different view of music and dance
The Royaumont Center for Music and Dance gives the public an opportunity to meet artists and explore creative work and music repertoires outside the mainstream.
Fenêtres sur cour[s], Festival events, meetings, workshops for young people, family activities, installations and exhibitions occupy all the abbey spaces, from the historic rooms to the gardens.
Live and deferred audiovisual dissemination via video, radio, Facebook Live, and recordings facilitates encounters with the works and the artists.
Royaumont productions are also performed at venues outside its walls, in France and abroad, in partnership with other cultural organizations.
Art, heritage and nature appreciation
Providing access to culture and artistic activity is an effective way to foster social inclusion and teach citizenship. For more than three decades the Foundation has been reaching out to its region, which is made up of both highly urbanized and rural areas. It has undertaken a wide variety of cultural outreach activities in partnership with local authorities, vocational reintegration structures, schools and recreation centers.

Art appreciation and practice programs give young people in the Val d'Oise, Ile-de-France and Hauts-de-France regions an opportunity to experience heritage, history, biodiversity, gardening, music and dance.

The Educator Program extends these activities to the Greater Paris Area with projects developed at the Médiathèque Musicale Mahler.