The libraries
In the framework of their strengthened cultural cooperation, the Royaumont Foundation and the La Grange-Fleuret musical library (located in Paris and under Foundation management since 2016) have brought together their documentary and historical resources under a shared name, that of the "Royaumont Libraries". This entity now covers the La Grange-Fleuret Librairy (BLGF) and two libraries located in the abbey, the François-Lang Musical Library and the Henry and Isabel Goüin General Library that both hold remarkable historical and archival collections.

The BLGF and the François-Lang Musical Library have implemented a coordinated policy to develop their holdings and share their expertise, as they aim to further activities intersecting research and musical practice. Because of their locations, the access they grant to their holdings and the devices they make available, they are unique in their dedication to research and reflection, while standing as sources of inspiration for artists keen to learn more and look anew at repertory pieces, with a view to developing fresh interpretations.

The Libraries collaborate with academic and research institutions, as evidenced by regular educational residencies, research seminars, symposia, and publications.
The François-Lang Music Library (BmFL)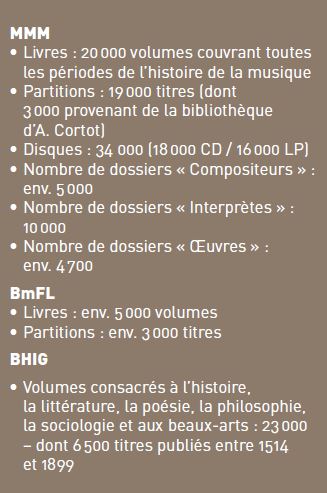 The BmFL holds a unique collection of music manuscripts and printed material assembled by pianist François Lang, Isabel Goüin-Lang's brother. The collection, with its strong focus on music for keyboards, includes 1300 items ranging from the end of the 16th century to the 20th century. It was acquired by the Foundation in 2006.
The BmFL's holdings also include a number of other collections (the Rameau/Florentin collection, the Hameline collection, the Isoir collection…).
La Grange-Fleuret Music Library – Paris (BLGF)
Set up in 1986 by Maurice Fleuret and Henry-Louis de La Grange, the BLGF is one of the main private collections in Europe focusing on 19th and 20th century music. With holdings of over 700 musical manuscripts, impressive bibliographical and discographical resources, and an archival collection, it provides an impressive array of documentation.
In addition to the remarkable Mahler catalogue drawn up by Henry-Louis de La Grange, it also holds the collections assembled by a number of pianists (Cortot, Long, Lefébure, Helffer) and composers (Rossini, Cras, Ballif…).
The premises of the library on rue de Vezelay in Paris have undergone a complete renovation and extension of its spaces.
The Henry and Isabel Goüin General Library (BHIG)
With holdings of some 23,000 tomes, the Henry and Isabel Goüin Library is a varied and eclectic collection, assembled through acquisitions and donations of private collections (in particular those of Paul Desjardins, Jean Cassou and Henri Bergson) supplemented with acquisitions linked to the Royaumont Foundation's activities since 1938.
A genuine "gentleman's library", it bears witness, with the various archives it also holds, to the enduring range of Royaumont's cultural ambitions.
---
The instruments
The monks' refectory at Royaumont contains a pipe organ built in 1864 by Aristide Cavaillé-Coll. The instrument was acquired in 1936 by François Lang to inaugurate Royaumont's first musical season. Listed, it underwent major restoration from 2002 to 2007.

Royaumont owns other unique musical instruments, including a harpsichord bearing the signature of Emile Jobin, which is a copy of a 1732 Vater harpsichord listed as a national treasure, and a romanesque organ designed by Marcel Pérès and Antoine Massoni (†) on the basis of Theophilus' 11th century Tractatus Diversarum Artium.

The de La Grange-Fleuret Fund has for its part donated a 1907 Steinway concert piano to the La Grange-Fleuret musical Librairy, which initially belonged to Princess Winnaretta de Polignac.

A number of other historical keyboard instruments have been entrusted to the Foundation and are made available to the laureates and artists in residence, so as to encourage both practice and transmission.
---
Publications and conferences