Welcome to the Royaumont experience!
The abbey hotel and restaurant open on Saturday evening
After a restful night in a room overlooking the cloister, the Garden of Nine Squares or the canal, explore the abbey and its surroundings. The unforgettable experience, previously available only to artists in residence and business seminars, can now be yours.

Take advantage of the tour open until midnight, and the weekend activities!
The Royaumont experience
En solo ou à deux, la formule inclut :
Une coupe de Champagne à l'apéritif
Le dîner dans l'une des plus belles salles voûtées de l'abbaye
La nuit dans une chambre avec vue sur le cloître ou le parc
Le petit-déjeuner, servi sous forme de buffet
L'accès au site et aux activités du week-end (hors concerts payants)
Le parcours de visite ouvert jusqu'à minuit
Options including: dinner | one night in a standard room | breakfast | access to the site and to weekend activities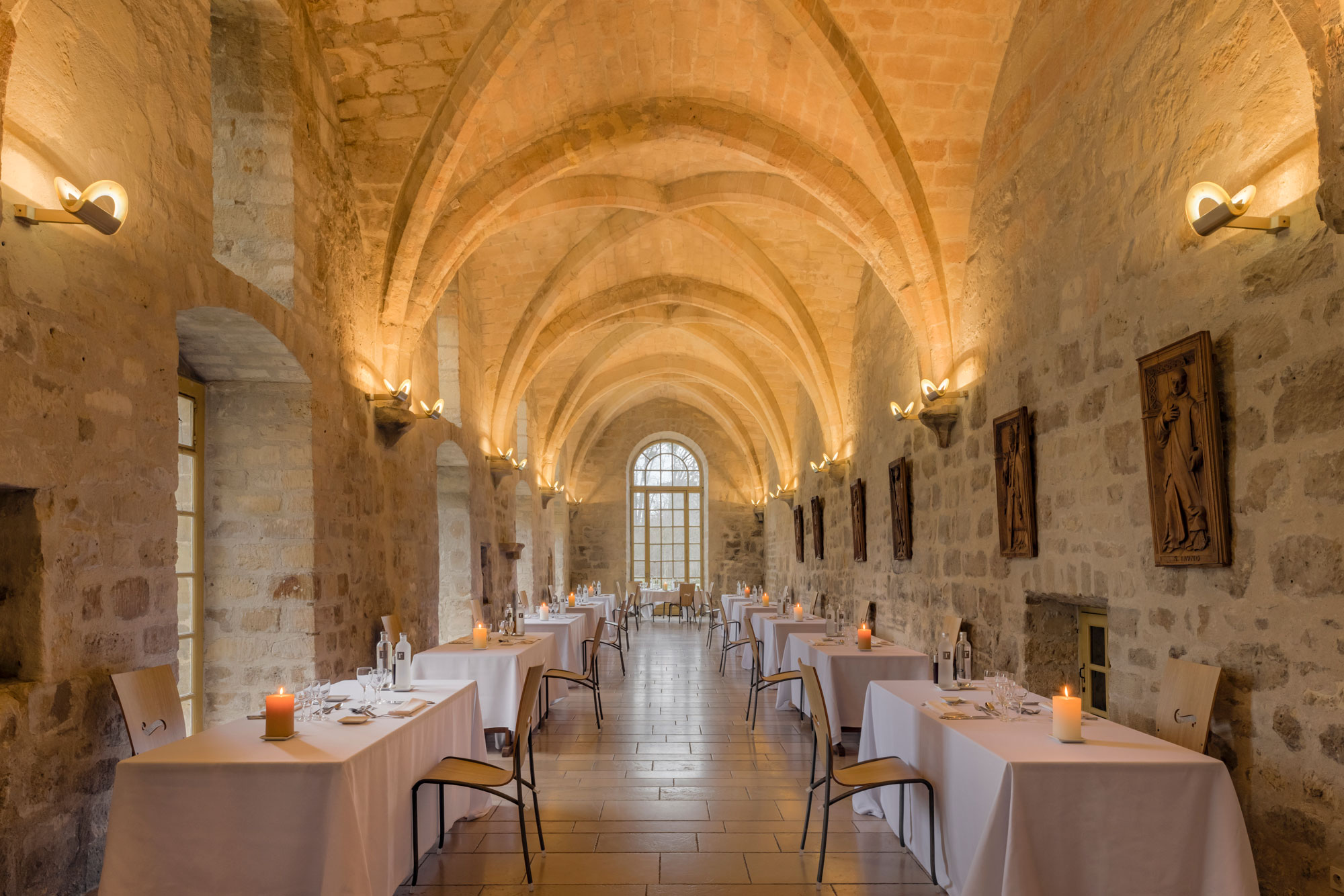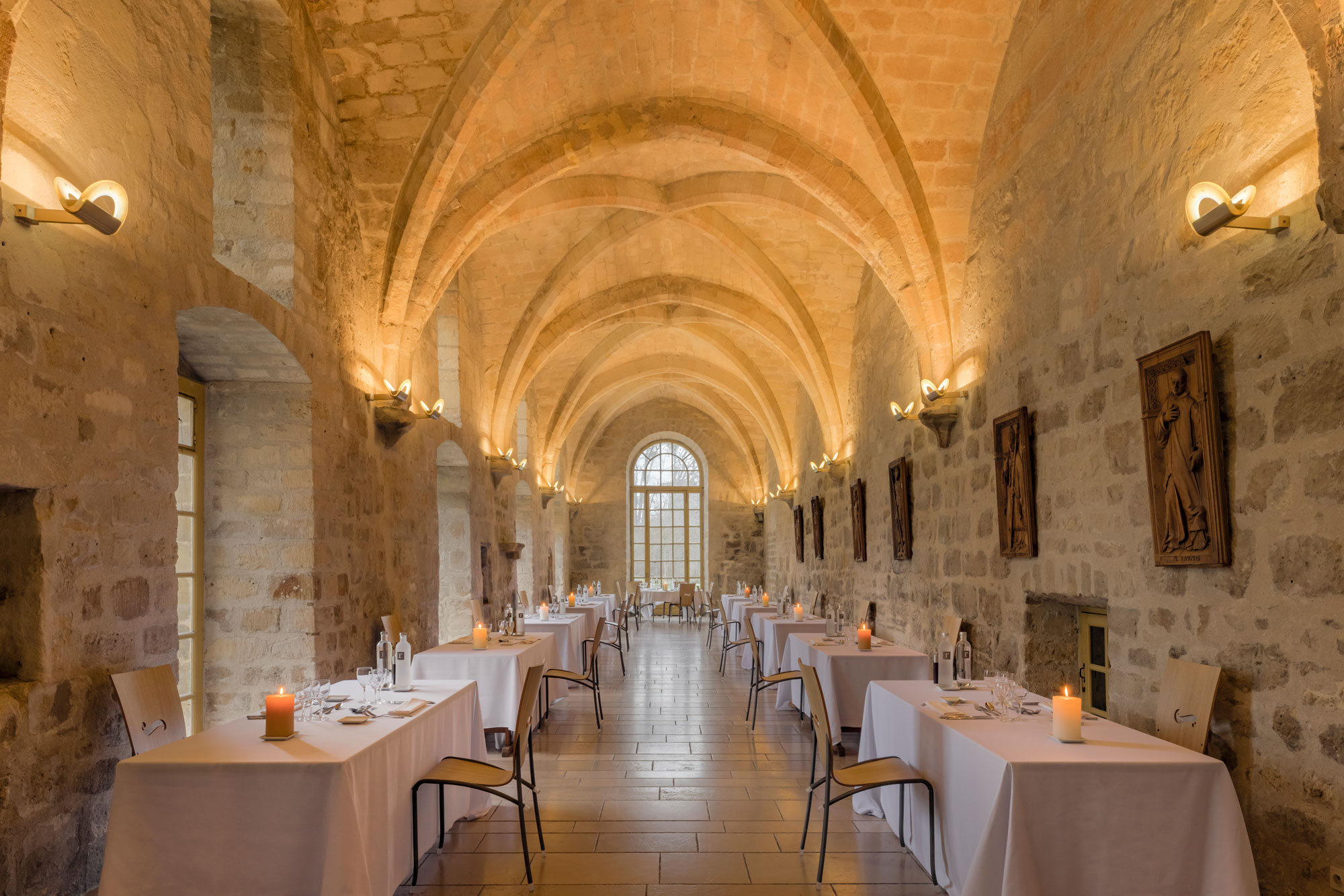 Tarifs
La nuit en chambre standard, à deux : 289 €
La nuit en chambre standard, en solo : 199 €
La nuit supplémentaire : 149 € (chambre double) | 129 € (chambre single)
À partir de 8 personnes, merci de nous contacter via ce formulaire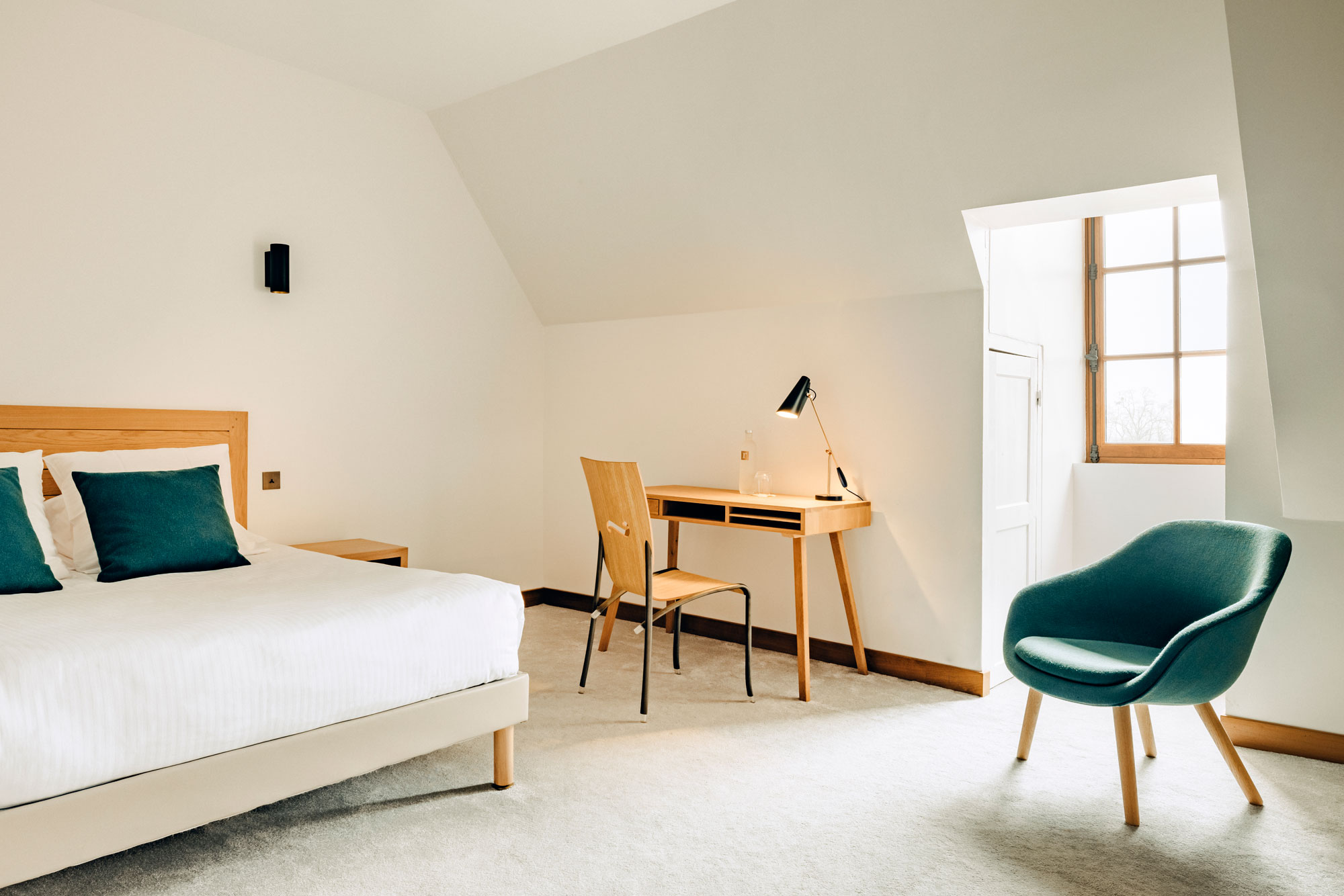 Informations pratiques
> Check-in à partir de 16h | restitution de la chambre à 11h (dépose des bagages en réception)
> Petit-déjeuner : de 7h à 9h30
> Ouverture de la grande salle à manger : de 12h à 13h30 et de 19h à 21h30
> Joindre la réception (24h/24) : composer le 9
> Joindre une autre chambre, située :
au 1er étage : composer le 1 suivi du numéro de la chambre
au 2e étage : composer le 2 suivi du numéro de la chambre
au 3e étage : composer le 2 suivi du numéro de la chambre
> Réveil automatique : composer le *55 + l'heure de réveil désirée (exemple : 7h15 = *550715), attendre la confirmation et raccrocher. Pour annuler : composer le #55.
> WIFI illimité et gratuit : demander votre identifiant à la réception.
---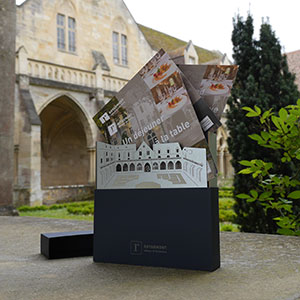 Offrez Royaumont !
Faites plaisir à vos proches en leur offrant un repas à la Table de Royaumont ou un week-end complet à l'abbaye grâce à nos bons-cadeaux.
Pour 10 € supplémentaires, un coffret-cadeau élégant à l'effigie de l'abbaye
---
Les équipements résidentiels
Durant votre séjour à l'abbaye, vous profiterez d'équipements résidentiels modernes : une chambre dotée d'un système de chauffage au sol et d'une salle de douche, un bar-salon de thé avec une terrasse donnant sur le canal, un salon pour les résidents, un auditorium et une librairie-boutique avec plus de 4 000 références…
Les chambres
Standard ou premium, chaque chambre est équipée d'une salle de douche moderne.
Le bar et le salon des résidents
Bâtiment des Latrines – Rez-de-chaussée
Installé sous les voûtes d'une salle gothique et disposant d'une terrasse au bord de l'eau, notre bar-salon de thé vous propose une sélection de cocktails, apéritifs et softs. Ouvert le week-end de 12h à 18h.
Dans le salon des résidents, des jeux de société, un billard et un téléviseur sont mis à votre disposition.
Le salon-auditorium
Bâtiment des moines – 2e étage
Profitez de ce lieu feutré et confortable pour visionner des films réalisés à Royaumont ou dans ses environs, où les plus grands acteurs ont tourné : Carole Bouquet, Louis de Funès, Michel Piccoli, Annie Girardot, Jean Poiret, Vanessa Paradis…
Sont aussi à votre disposition des opéras et pièces de théâtre en lien avec les activités artistiques de la Fondation.
Egalement HiFi et télévision (Canalsat).
Ouvert à toute heure.
La librairie-boutique
À l'entrée du parc
Livres, CD, papeterie, bien-être, produits gourmands, articles « jeunesse », décoration… La librairie-boutique de Royaumont propose plus de 4 000 références.
Bénéficiez de 10 % de réduction sur une sélection de produits indiqués en librairie.
La librairie-boutique est ouverte tous les jours
Du lundi au vendredi
10h-12h45
et 13h45-18h
10h-12h45
et 13h45-17h30
Week-ends et jours fériés
10h-18h
10h-17h30
Bienvenue dans l'expérience Royaumont